The sun rises early over Mount Desert Island, drawing you out of bed (or tent) for a day filled with adventure. And there are lots of adventures to be had on land, air, and sea. Bring a travel mug of coffee, a pair of binoculars and get up with the birds. Visit a birding hotspot such as the Ship Harbor Trail or Sieur de Monts Spring. Or join a bird walk with a guide who can give sighting and identification tips, like how to tell a Chestnut-sided Warbler from a Black-throated Green Warbler. Ask at any visitor center about ranger-led and other naturalist-led birding tours.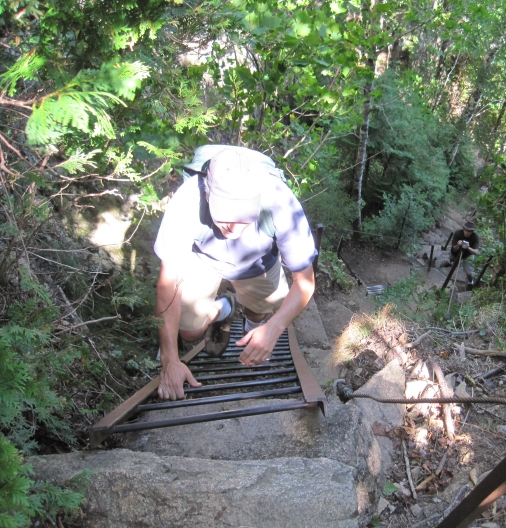 The mountains and cliffs beckon as the sun warms the pink granite. Rock climbing is the ultimate Acadian adventure, allowing you to experience the cliffs up close. If you are an experienced climber with your own equipment, visit the Park's climbing page for approved routes and other information. If you are a casual climber or beginner, guided climbs are available through one of the area climbing schools.
Hiking is always an adventure for any skill level, from Great Head's moderate climb atop ocean cliffs to the aptly-named Perpendicular Trail's granite steps and iron rungs up the steep east face of Mansell Mountain. Pick up a trail map in the Southwest Harbor or Hull's Cove visitor center to plan your adventure up one of the Park's 26 summits. Some trails are closed seasonally for peregrine nesting, so it's a good idea to check ahead.
Biking shows you yet another view of the island. The 45 miles of Carriage Roads in the park are open to bicyclists and pedestrians but free of motorized vehicles. The roads meander through the woods, around mountains, and over streams on arched stone bridges. For a less groomed ride, explore the fire roads by bicycle. Most are open to cars, but seldom travelled. Roads like Long Pond and Western Mountain lead you deep into the woods, past ponds, clearings, and trailheads. Bring your own bike or rent from one of the Island's bike shops.
Having explored the island up close, take to the air for a completely new perspective. Catch a plane or a glider at the airport in nearby Trenton for a scenic flight. See glacial valleys, rocky headlands and sandy beaches from above. Watch the tiny cars making their way up the winding road to the Cadillac Mountain summit.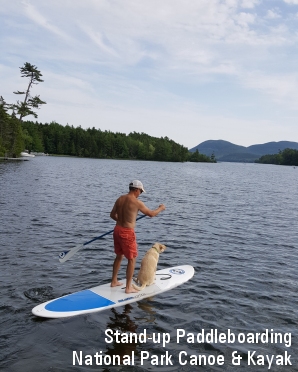 Get out on the water and see the island's distinctive profile. Join a sea kayak tour or stand-up paddle boarding class; go sailing on a friendship sloop or schooner. These tours take you through the harbors where wildlife abounds, so keep an eye out for harbor porpoise, seals, osprey, eagles, and a variety of sea birds.
Head further out from shore on a deep-sea fishing expedition or lobster boat tour to gain insight into Maine's fishing heritage. Or head out on a whale watch to see the largest animals in Acadia—humpback and finback whales—surface for air, slap their tails, and breach in an unforgettable display of the power of nature.
Sunset in Acadia can be beautiful, so wrap up your adventure by watching the fading rays of light paint the sky over the water. As the sun sets on your Acadian adventure, you know this is one you'll never forget.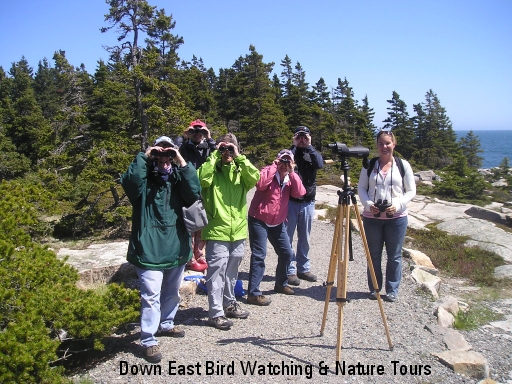 Additional Resources
Mansell Boat Rentals & Charters
207-244-5625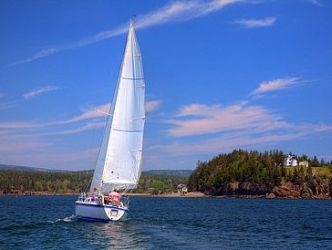 We provide sailboat rentals, sailing lessons, motorboat rentals, captain services, and personalized sightseeing tours for the Acadia National Park area surrounding Mt. Desert Island, Maine. Accommodations on site, Moorings Inn Waterfront (244-5523)
Ambergris Voyages
207-370-2141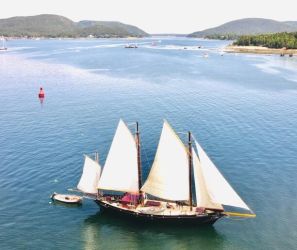 This summer we'll be sailing from our home port of Southwest Harbor, Maine. Let us show you why we love this place so much! There is no set route, we sail according to the wind and your interests. Departing from Southwest Harbor we'll sail out into the Great Harbor, a body of water protected from the oceans' swells by Bear Island, Sutton Island and the Cranberry Islands. Bear Island is the home to Bear Island light house and Sutton Island is home to several summer cottages. They are both private islands.