Almost Half-Price Annual Acadia Park Passes are available for $28 at the Harbor House Office now thru December 20. Monday thru Friday, 9AM to 4PM. Cash or check ONLY; make checks out to "National Park Service". Info: 244-3713
Southwest Harbor Public Library Presents: Marine Mammals of Maine - A Seal's Journey


---

Wendell Gilley Museum Presents: Holiday Open House and Members Carving Show


---

ArtWaves Presents: Woven Heart Ornament


---

Atlantic Brewing Presents: Italian Cook-Off


---

Southwest Harbor Public Library Presents: Holiday Concert and Sing Along with the Acadia Bell Choir


Fogtown Brewing Presents: Sing-a-long Sundays with Cousin B


---

Sips Presents: The Jam at Sips


---

Fogtown Brewing Presents: Cousin B. and Gus La Casse


---

Fogtown Brewing Presents: Ryan O'Keefe


---

Fogtown Brewing Presents: Goldenoak


Island police log: Noise complaint leads to arrest


---

Acadia visitation up in Oct., still down for year


---

Crepes and crafts


---

Parking lot lights debated


---

Children's Bazaar set


Bar Harbor Bank & Trust Sponsors 2019 MDI Marathon


---

Welcome to new Chamber member Compusult, Inc.!


---

Welcome to new Chamber Member Edward Jones Investments


---

3D Mammography Aids in Early Detection at MDI Hospital's Breast Health Center


---

MDI Hospital Emergency Room Now Offers Opioid Treatment on Demand

The Quietside of Acadia
Mountains rising from the ocean, forests stretching to granite cliffs, lakes nestled in glacial valleys, crashing surf on a rocky shoreline. It is little wonder that nearly three million people come each year to Mt Desert Island (often just called "MDI") to enjoy Acadia National Park. So, how can an island that hosts millions of people have a quiet side?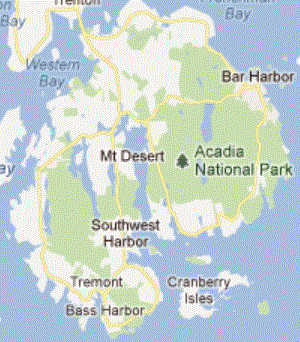 MDI is roughly circular with a fjord, Somes Sound, through its center that nearly cuts it in two. Acadia covers just over half of MDI, about a third of the park is west of the sound.
Most tourists to the island head to Bar Harbor on the northeast coast, which is home to several large hotels and is a popular stop for cruise ships. Tremont and Southwest Harbor are the principal towns on the west side of MDI. First settled by fishermen, the towns retain their maritime heritage boasting healthy fishing fleets and myriad boat yards.
Although less traveled than the east side, the Quietside of Acadia offers plenty of services for visitors, as this website shows. We invite you to browse the site to learn about Acadia National Park and our community. Or better still, come for a visit and enjoy Acadia away from the crowds.