The Visitor Center is closed.
---

Charlotte Rhoades Buttergly Garden Presents: Earth Day 50th Anniversary


---

22nd Annual Acadia Birding Festival


---

Charlotte Rhoades Butterfly Garden Open House


---

Bass Harbor Boat Races and Pancake Breakfast


---

Harbor House Community Center's Annua Flamingo Festival


Island Arts Association Presents: Memorial Weekend Craft Fair


---

Island Arts Association Presents: Spring Southwest Harbor Craft Fair


---

Island Arts Association Presents: Fourth of July Craft Fair


---

Coastal Fine Art Alliance of Maine's Annual Gallery on the Green


---

Island Arts Association Presents: August Southwest Harbor Craft Fair


Fishermen, oyster farmers go direct


---

Island Police: Neighborhood spat well documented by police


---

Virus crisis a threat to mental health


---

Playgrounds too?


---

Two charged after  parking lot assault


Welcome to new Chamber Member, Beal and Bunker Ferry Service!


---

Memorial Service for Coda's Jeff Russell


---

Welcome to New Chamber Member, Maine-ly Delights II


---

PINTS FOR PURPOSE, BENEFITING FRIENDS OF ACADIA


---

FOGTOWN'S PINTS FOR PURPOSE: BENEFITING A CLIMATE TO THRIVE

The Quietside of Acadia
Mountains rising from the ocean, forests stretching to granite cliffs, lakes nestled in glacial valleys, crashing surf on a rocky shoreline. It is little wonder that nearly three million people come each year to Mt Desert Island (often just called "MDI") to enjoy Acadia National Park. So, how can an island that hosts millions of people have a quiet side?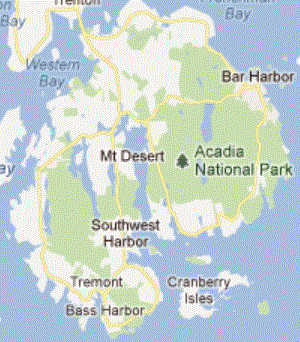 MDI is roughly circular with a fjord, Somes Sound, through its center that nearly cuts it in two. Acadia covers just over half of MDI, about a third of the park is west of the sound.
Most tourists to the island head to Bar Harbor on the northeast coast, which is home to several large hotels and is a popular stop for cruise ships. Tremont and Southwest Harbor are the principal towns on the west side of MDI. First settled by fishermen, the towns retain their maritime heritage boasting healthy fishing fleets and myriad boat yards.
Although less traveled than the east side, the Quietside of Acadia offers plenty of services for visitors, as this website shows. We invite you to browse the site to learn about Acadia National Park and our community. Or better still, come for a visit and enjoy Acadia away from the crowds.