The Visitor Center is Closed for the Winter.
Southwest Harbor Public Library Presents: Joy Riding with Island Connections


---

ArtWAves MDI Presents: At Home with ArtWaves


---

Wendell Gilley Museum Presents: Holiday Printmaking


---

Southwest Harbor Public Library Presents: Midwives and Safe Motherhood Promoting Respectful Care of Women with Linda Robinson


---

ArtWaves MDI Presents: Candlemaking


Fogtown Brewing Presents: H4H Pop-N-Downers 2019 US Tour


---

Island Arts Association's 44th Annual Holiday Craft Fair


---

Harbor House's Annual Holiday Craft Fair


Maguire named hospital COO


---

Bay Ferries prepares


---

Dam construction completed


---

Acadia Family Center leader steps down


---

Bidder for tax-acquired property backs out


Bar Harbor Bank and Trust 30th Annual Community Food Drive - Food For Good


---

Wabanaki Stories, Songs, History and Drumming


---

Bar Harbor Bank & Trust Sponsors 2018 MDI Marathon


---

Cruise of MDI'S Great Harbor to make History come alive


---

Southwest Harbor Week Celebrates the Quietside of Acadia


The Quietside of Acadia
Mountains rising from the ocean, forests stretching to granite cliffs, lakes nestled in glacial valleys, crashing surf on a rocky shoreline. It is little wonder that nearly three million people come each year to Mt Desert Island (often just called "MDI") to enjoy Acadia National Park. So, how can an island that hosts millions of people have a quiet side?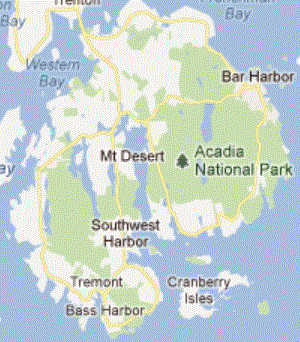 MDI is roughly circular with a fjord, Somes Sound, through its center that nearly cuts it in two. Acadia covers just over half of MDI, about a third of the park is west of the sound.
Most tourists to the island head to Bar Harbor on the northeast coast, which is home to several large hotels and is a popular stop for cruise ships. Tremont and Southwest Harbor are the principal towns on the west side of MDI. First settled by fishermen, the towns retain their maritime heritage boasting healthy fishing fleets and myriad boat yards.
Although less traveled than the east side, the Quietside of Acadia offers plenty of services for visitors, as this website shows. We invite you to browse the site to learn about Acadia National Park and our community. Or better still, come for a visit and enjoy Acadia away from the crowds.