The Visitor Center is closed for the winter.
Southwest Harbor Public Library Presents: Peace Crane Folding


---

Southwest Harbor Public Library Presents: Maine Poet, Gary Rainford


---

Friends of Acadia's Roadside Cleanup Day


---

Seal Cove Auto Museum Presents: Beers and Gears


---

Southwest Harbor Public Library Presents: The Maine Bird Atlas 2018 - 2022 with Richard MacDonald


Sips Presents: Community Jam


---

Sips Presents: Wednesday Night Music with Stephen Bowman


---

Fogtown Brewing Presents: Big Tree


---

Coda Presents: Thayer Naples with Little Lawnmowers


---

Sips Presents: Wednesday Night Music with Peter Lindquist


Acadia research fellows named


---

Committee membership, cruise ship petitions supported


---

Sidewalk goes to voters


---

No funds yet for future fire station


---

This week in pictures


Bar Harbor Bank and Trust Announces Jaime Frederes as Senior Vice President, Director of Residential Lending


---

At Home Rowing Regatta Fundraiser


---

Innovative Treatment Helps Heal Chronic Injuries Using Patients' Own Blood


---

Welcome to new Chamber Member - Southwest Harbor Historical Society!


---

Hinckley Yachts Partners with Southwest Harbor Public Library on Digital Archive Project

The Quietside of Acadia
Mountains rising from the ocean, forests stretching to granite cliffs, lakes nestled in glacial valleys, crashing surf on a rocky shoreline. It is little wonder that nearly three million people come each year to Mt Desert Island (often just called "MDI") to enjoy Acadia National Park. So, how can an island that hosts millions of people have a quiet side?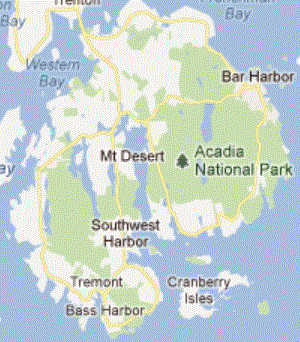 MDI is roughly circular with a fjord, Somes Sound, through its center that nearly cuts it in two. Acadia covers just over half of MDI, about a third of the park is west of the sound.
Most tourists to the island head to Bar Harbor on the northeast coast, which is home to several large hotels and is a popular stop for cruise ships. Tremont and Southwest Harbor are the principal towns on the west side of MDI. First settled by fishermen, the towns retain their maritime heritage boasting healthy fishing fleets and myriad boat yards.
Although less traveled than the east side, the Quietside of Acadia offers plenty of services for visitors, as this website shows. We invite you to browse the site to learn about Acadia National Park and our community. Or better still, come for a visit and enjoy Acadia away from the crowds.