New! Get Maps & Guides from our online store
The Visitor Center is open 9AM to 5PM Monday through Friday. If you plan to visit, please wear your face covering and practice social distancing. We have Individual Weekly, Vehicle Weekly and Acadia Annual Park Passes available.
ArtWaves Presents: Intro to Watercolor On-Line


---

ArtWaves Presents: Print the Park! OUTDOORS


---

Quilt N Fabric Presents: Maine's Shop Hop


---

Great Cranberry Island Historical Society Presents: Art of the Cranberry Isles


---

ArtWaves Presents: Needle-Felted Mandalas OUTDOORS


Fogtown Brewing Presents: Sara Trunzo & Tiffany Williams


---

Island Arts Association Presents: August Southwest Harbor Craft Fair CANCELED


---

Fogtown Brewing Presents: Gus La Casse and Mathias Kamin


---

Coastal Fine Art Alliance of Maine's Annual Gallery on the Green CANCELED


Appeals Board finds CEO acted in error


---

The week in pictures


---

Gousse: School needs budget passed soon


---

Cancer remembrance ceremony planned


---

Junior Ranger record holder visits Acadia


Healthy Acadia Presents New Programs That Will Explore Nature-Based Restorative Practices


---

Fund to Help Those in Recovery Stay Connected


---

Welcome to our new Chamber Member Great Cranberry Island Historical Society!


---

Welcome to New Chamber Member - A Climate to Thrive


---

MDI Hospital Names New Emergency Department Medical Director

The Quietside of Acadia
Mountains rising from the ocean, forests stretching to granite cliffs, lakes nestled in glacial valleys, crashing surf on a rocky shoreline. It is little wonder that nearly three million people come each year to Mt Desert Island (often just called "MDI") to enjoy Acadia National Park. So, how can an island that hosts millions of people have a quiet side?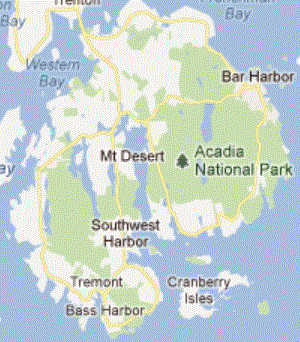 MDI is roughly circular with a fjord, Somes Sound, through its center that nearly cuts it in two. Acadia covers just over half of MDI, about a third of the park is west of the sound.
Most tourists to the island head to Bar Harbor on the northeast coast, which is home to several large hotels and is a popular stop for cruise ships. Tremont and Southwest Harbor are the principal towns on the west side of MDI. First settled by fishermen, the towns retain their maritime heritage boasting healthy fishing fleets and myriad boat yards.
Although less traveled than the east side, the Quietside of Acadia offers plenty of services for visitors, as this website shows. We invite you to browse the site to learn about Acadia National Park and our community. Or better still, come for a visit and enjoy Acadia away from the crowds.